Wednesday, January 30th – Tuesday, February 5th
I woke up on Wednesday, January 30th to temperatures in the -20's. Yes, negative twenty's. Apparently it was too cold for indoor work so no progress that day. It was slightly warmer on day 177 and the carpenter was at the house measuring and cutting trim and stair pieces. Not exactly the bind-blowing progress we were hoping for, but at least something was done.
On Friday, day 178, tile work was started in the mud room and master bathroom. The lighting wasn't the best when we were there but it occurred to us later that evening that the tile in the master bathroom wasn't what we had selected.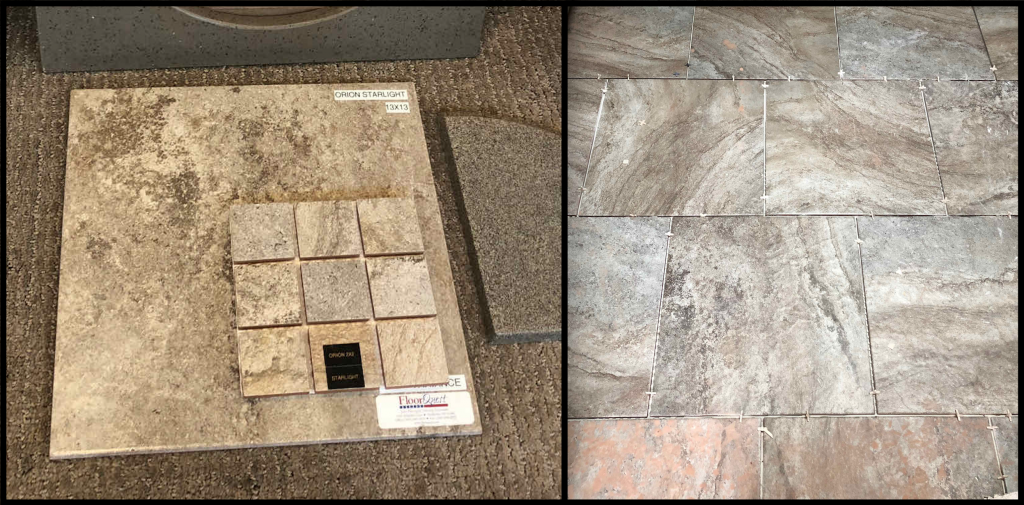 What you see above on the left is what we chose back in May when we made our selections. The picture on the right is the tile that was installed. Lighting, dirty tiles, and the surroundings play a big role in the overall appearance, I get that. And don't get me wrong, the tile on the right does look nice, but I honestly can't wrap my head around how these two tiles are the same.
Seeing a completed fireplace was pretty exciting, but they removed one of our temporary garage doors in the process so the garage is once again wide open. No ETA on the permanent garage doors. They've been "rescheduled".
At this point, aside from seeing the house completed, I don't know that there will ever be enough progress completed in a week to truly satisfy me. It's a painfully slow process and I'm beyond sick of living in a basement.
Stairs installed
Finished carpentry continues
Tile work finished
Fireplace completed
Day 176
RealFeel: -38

Day 177
A heat wave

Day 178
Stairs

And more stairs

Mud room tile

Master bathroom tile


Day 181

Day 182
26 weeks down, 3 to go.